HOW TO ACHIEVE FAST, COST-EFFECTIVE PCR ASSAY VALIDATION

The right validation partner can help you avoid costly mistakes
Laboratories must conduct assay validations to ensure that accurate, reliable data is provided to physicians and patients, but it is not a routine task for most labs. Laboratory developed test (LDT) validation is a complex task, requiring specialized skills. Because most labs go through the validation process infrequently, in-house teams often have limited experience. If not carefully planned, mistakes in the validation process can lead to unexpected expenses and timelines that can stretch up to 12 months. For labs running on tighter margins than ever before, an efficient and cost-effective validation process is critical.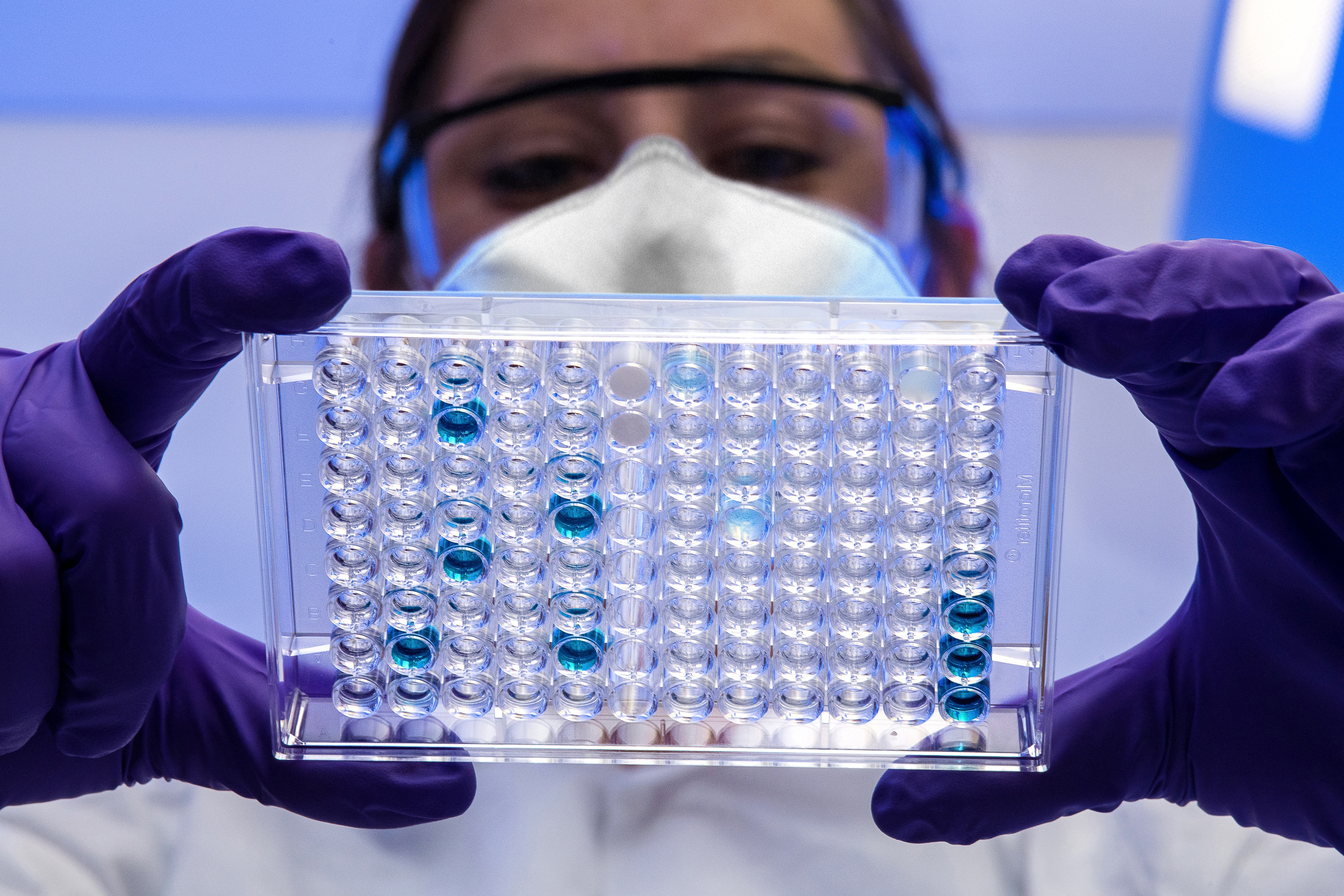 When adding a new assay, planning and decision-making begin long before the validation stage. The validation plan determines what equipment, reagents, comparison samples, and staff training will be needed to complete the work, and failure to build a comprehensive plan will result in a stressful, last-minute scramble to order materials, provide training, or repeat studies.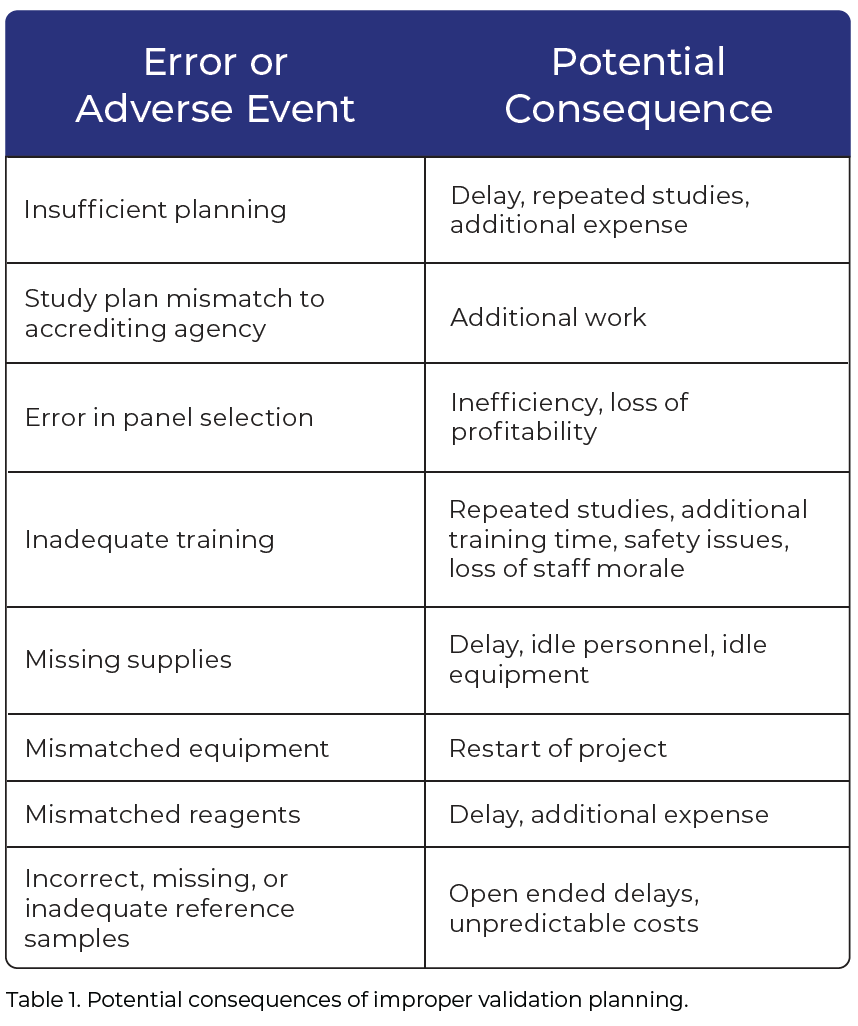 Validation plans must be structured to account for variable lead times for samples and supplies and particular requirements by the accrediting agency. Errors in panel selection, training oversights, and misunderstood regulatory requirements can turn what might have been a quick validation into a year-long drain on your resources (Table 1). Having the right plan in place early can prevent costly and time- consuming delays once the validation begins.
The wrong plan will set validation back before it begins!
Cost pressures are making many panels unprofitable
The modern lab must run more tests on tighter timelines than ever before, while reducing costs to remain competitive in the increasingly price-conscious medical sector. Medicare cuts have strained all labs, but small- to mid-sized reference labs now face the most severe cost pressures.1 This trend may intensify in the coming years, if Medicare price updates continue to fail to keep pace with inflation.2 Wages, materials costs, and overhead may increase faster than Medicare reimbursements, so labs must improve efficiency and maximize profitability, by selecting focused, easy-to-use test panels that make the most of laboratory resources.
Missing equipment or supplies can result in significant delays
Validation is not the time to discover that you have insufficient thermocycler capacity or to realize that you should have ordered a different sized block to validate a new panel. It's certainly not the time to learn that you are missing reagents that are now on backorder and may take weeks to arrive. When materials are missing, the entire validation project may come to a standstill.
Insufficient training results in repeat work
The right skills and training are especially important in the lab. Laboratory technicians must be experts on assay protocols, biosafety, sample tracking, instrument calibration, and quality control. Add to this the necessary expertise in data generation, analysis, and interpretation, and the burdens of training and skill assessment can become overwhelming.3 If technicians aren't properly trained to run assays, any work completed in the validation may need to be repeated. It is critical, therefore, to approach these processes with the right resources and the best training plan.
Clinical sample sourcing is cumbersome and prone to delay
Obtaining microbial reference strains and clinical specimens for validation testing has never been inexpensive or easy. Most validations require a variety of pathogenic strains, stereotypes, or antibiotic-resistant variants, plus positive and negative clinical specimens, and requirements can vary among accrediting agencies. When replicate requirements are considered, it can be a challenge to find material in the necessary volumes. Potentially cross-reactive samples and interfering substances add to sample acquisition challenges.3 Sourcing validation samples from multiple biobanks can become unmanageable and validation can't begin without the right samples.
A lab without ongoing support may struggle with change
Laboratories must be able to adapt quickly to increased throughput demands, staffing changes, or to accommodate regulatory updates. And sometimes changes make it necessary to re-validate assays. In a busy reference laboratory, resources may not be readily available to quickly respond to changing needs, but labs must adapt to remain compliant and competitive.
The solution: Partner with the right validation consulting service
Not all laboratories have the time, resources, or experience to conduct an independent validation. By enlisting an experienced consulting service to provide end-to-end validation support, labs can avoid a potentially prolonged, stressful, and expensive ordeal.
When choosing a validation consulting service, keep in mind the following key attributes:
1. Experienced team of specialists: Leverage a team of experts that will guide you through a regulatory-compliant LDT validation designed to avoid the most common missteps made by laboratories that add time and expense to the validation process.
2. Tailored approach: Every laboratory has unique capabilities. Applications scientists should be available to perform a detailed assessment of your current capabilities, create a validation plan that meets regulatory requirements, and consider your future operational needs.
3. Direct material sourcing: The right validation consulting service will specify supply and equipment needs appropriate for your panel and validation requirements. An experienced consultant can foresee potential issues with new equipment and reagents, make sure that all materials are in place before validation testing begins, and help you avoid unexpected expenses and delays.
4. Direct sample sourcing: A laboratory without the right reference samples cannot correctly validate an LDT assay. Thus, having a partner that can supply reference strains and characterized clinical samples that can be shipped directly to your facility is beneficial.
5. The right panels: Getting help in selecting the right panel, from a partner with experience in the market and that can provide high-level support on billing and claim coding, is essential. A focused panel translates into cost savings for the facility, client, and patient.
6. Correct training: Consulting services should include user-editable protocols, educational materials, training videos, and comprehension assessments that have been based on real reference laboratory experience.
Our PCR Test Validation Consulting Service
Our field applications specialists have developed customized, regulatory-compliant LDT validation plans for over 200 labs seeking CLIA certification or accreditation through COLA or CAP. Our clients have completed validations in an average of only 48 days, or 15 days if only one panel is validated.
We take a white-glove approach to validation consulting and pairs clients with a dedicated applications specialist to partner with them at each step. Processes have been refined in our in-house reference laboratory to ensure that the right equipment, materials, and training tools are provided for a successful validation. Our applications specialists remain available to clients to provide additional training and support even after validation is completed.

The Bottom Line
Any successful business must acknowledge the areas where guidance from a dedicated expert is required for the best result. Most businesses, for example, partner with an accountant to track their finances and provide tax advice. Existing personnel may be excellent at math and record-keeping, but only a professional possesses the specialized knowledge and experience necessary to perform accounting tasks at peak efficiency, and in a way that prevents future problems.
A similar, solutions-oriented partnership is available to clinical and research labs in the form of PCR test validation consulting services. The right test validation consulting service will provide resources and mentorship to guide clinical labs through the challenges of validation.
References
1. Nichols, James H. et al. What the Protecting Access to Medicare Act Means for Clinical Laboratories. Clinical Chemistry. 1 Jun 2019. 65(6): 727–732. https://doi.org/10.1373/-clinchem.2019.303255
2. Congressional Budget Office. The Prices that Commercial Health Insurers and Medicare Pay for Hospitals' and Physicians' Services. United States, 2022. Web Archive. https://www.cbo.gov/system/files/2022-01/57422-medical-prices.pdf
3. Burd EM. Validation of laboratory-developed molecular assays for infectious diseases. Clin Microbiol Rev. Jul 2010. 23(3):550-76.
doi: 10.1128/CMR.00074-09. PMID: 20610823; PMCID: PMC2901657.
---